performance-metrics

Published: May 6, 2012

Read Time: 4 minutes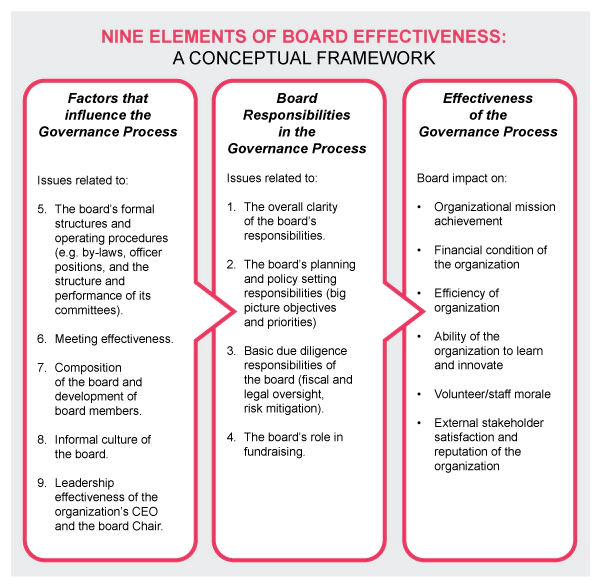 A recurring theme in the nonprofit governance literature is the need for board performance assessments to be conducted regularly by non-profit boards.
Some governance experts have developed approaches to board performance evaluation based on adherence to strict normative models while others have developed more detailed instruments and recommendations reviewing a wide range of board practices. Others have pointed out that, while many nonprofits may recognize the value of assessing board performance, they lack the capacity to: a) carry out the technical work of gathering and analyzing board performance information; b) apply that information to making decisions about changes in board performance; and c) track the impact of changes in governance practices over time.
For several years, we have been engaged in a research project examining board self-assessment as a good governance practice. Our board performance self-assessment tool is based on a conceptual framework of issues and problems that board members and others that connect with boards have reported as challenging. Figure 1 below shows that framework. As can be seen, issues are grouped into nine elements of board performance. Four of them reflect the board's activities or what is sometimes called the governance process. The remaining five refer to factors that are often claimed to influence that process. The framework also shows how these issues relate to the contributions nonprofit boards make to their organizations.
To determine the extent to which these issues challenge board and organizational effectiveness and whether repeated self-assessments actually improve the performance of boards, we created the confidential online community-based research project, Board Check-Up (www.boardcheckup.com). It provides feedback on how the board's performance is perceived by board members themselves and those who interact with them (such as the CEO and key staff, volunteers and stakeholders). While it is not designed to be as revealing as a medical checkup for individuals, many of those who have used it feel it brought to light many issues that challenge them. While some participants reported the process was difficult because it involved critical reflection, most found it "therapeutic" in providing a data-based platform on which to base board development discussions.
Findings of the Issues that Challenge Boards
Just to illustrate a few of the findings from our research so far, the table below shows the top ten issues perceived to be the most problematic for participating boards based on a sample of 487 respondents in Canada, the United States and United Kingdom that completed the Board Check-Up instrument online between September 2010 and October 2011. As you can see from the table, they had to do with the board's role in fundraising. Other had to do with the composition and development of the board and issues relating to board structures and processes.
Issues Perceived to be Most Problematic for Participating Boards
The board has problems engaging in actual fundraising activities.
The board has not approved an overall strategy for fundraising.
The board seems confused about its role in fundraising for the organization.
Finding high quality new board members is a problem for us.
There is not enough ongoing development and training for regular board members.
The board does not regularly and systematically assess its own performance and change itself if it thinks it can improve.
Some committees have members who contribute very little or don't have enough experience to be of much help.
The board rarely holds creative thinking sessions aimed at trying to find new ways the organization could develop.
The board does little to learn about innovations tried by others that might help the organization.
Some board committees are unclear about their responsibilities and/or authority.
The data above are just a small part of what we have learned from our research to date. I will be sharing more of these results at the conference and present what we hope is a practical guidebook boards can use to plan how best to use board performance assessment results to assess and diagnose board performance problems and situations and plan board development efforts.
Please feel free to contact Yvonne and Vic about this research:
Prof. Yvonne Harrison
Department of Public Administration and Policy,
Rockefeller College of Public Affairs and Policy,
University at Albany, State University of New York
[email protected]
Prof. Vic Murray
School of Public Administration,
Faculty of Human and Social Development
University of Victoria, BC, Canada
[email protected]