book-review
Book Review
So You Want To Be A Company Director – Book Review

Published: April 26, 2012

Read Time: 3 minutes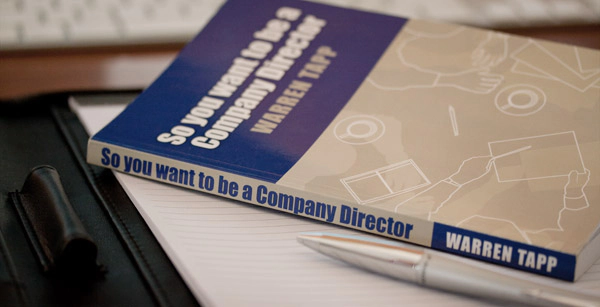 Have you been asked to sit on a board or are you interested in becoming a board member or company director?
Warren Tapp's self published book So you want to be a Company Director is a new resource that can answer many of the questions first time and even experienced directors and board members have about sitting on a board and becoming a director.
Warren Tapp has over 30 years of experience with boards in Australia and overseas as a consultant, director and non-executive chairman. He also facilitated modules of the Company Directors course for the Australian Institute of Company Directors for over 10 years. In So you want to be a Company Director, Tapp draws on his extensive experience to cover the many facets of being a director and sitting on a board.
Written in an easy to read conversational tone, So you want to be a Company Director starts at a place many books on boards and directorship completely skip – why do it?, why be on a board in the first place and what are the reasons you are doing it? From there Tapp delves into more detail in this same straight forward and easy to read manner, leading you (the reader) through areas such as corporate structures, legal matters, finance, strategy, risk management, director dynamics, attending board meetings and much more.
The book also covers a few other areas that many books on directorship do not, such as family companies, the importance of professional development for board members and directors and even getting off a board. The book doesn't go into nitty gritty detail on all subjects, but rather provides a starting point to develop your knowledge and act as a compliment to existing books and resources that focus in-depth on specific areas.
While So you want to be a Company Director is predominately focused on for-profit boards, almost all of the chapters and the concepts are applicable to non-profit boards, there is an entire chapter devoted to some of the specific challenges and issues of non-profit boards.
As many board members on non-profit boards are also active in for-profit companies, the book will also give valuable insight into some of the key differences between for-profit and non-profit boards and will bolster your knowledge when participating in for-profit boards as well. Chapters such as director dynamics, The CEO, The Chairman and several others are definitely applicable to both non-profit organisations and for-profit companies, and even some of the concepts in other chapters like Family Companies are applicable to non-profits such as being aware of and dealing with a dominating founder.
If you are someone who has never been a board member or director or even if you are an experienced board member who is looking to recap or update skills, So you want to be a Company Director is an excellent starting point to ensure you have the answers to some of the most commonly asked questions and issues raised in relation to boards and directorships.