governance
Governance
Committee vs Board – What is Your Role?

Published: February 11, 2013

Read Time: 3 minutes
The governance structures of not-for-profit organisations in Australia have never been more under the microscope than at present.
At the Commonwealth level, major reform is underway concerning the regulation of the NFP sector, initiated by the Productivity Commission Report 2010.
Initially, the newly established national regulator, the Australian Charities and Not-for-profits Commission (ACNC), will concentrate on our Charities, with a remit to remove complex regulations and onerous reporting burdens, to clarify the legal definition of charity and to provide greater transparency for funders and the public.  However in the longer term, the objectives of the Commission will broaden to encompass the whole of the NFP sector.
At the same time State and Industry influences are forcing Governance to become a bigger issue.  In larger NFPs, boards are becoming more professional by providing more technical training in duties, roles and responsibilities of the Committee (Board); appointing new directors with relevant experience; and focusing on board composition designed to compliment skills, knowledge and experience.
Yet amongst these changes, one of the most fundamental issues that are not being directly addressed is what is the role of the Management Committee within this?
The basic precepts of good governance are fundamental to all organisations – having a board charter, well-defined roles and responsibilities for board members, appropriate financial knowledge, accountability and transparency to members, shareholders and stakeholders.
It is the role and responsibilities of our Committee that now needs to be discussed.
Traditionally, we were defined as a Management Committee because that is what we did – volunteer our time to the daily management of the organisation on behalf of our members, while our staff (if we had any) focused on the delivery of our service. This model worked and still works for those organisations that are relatively simplistic in their structure.
At the other end of the scale is Corporate Boards whose role is defined under the Corporations Act as the governing body of the whole organisation on behalf of their shareholders.
Yet there is a whole spectrum under which we work which is rarely considered – and this is dependent on the complexity of our organisation at any point in time.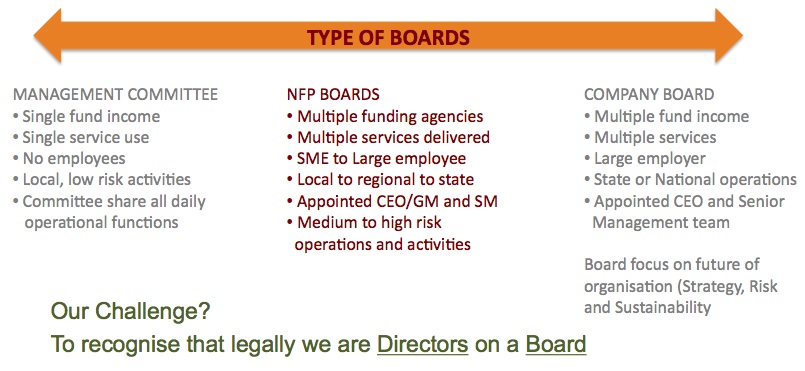 So, what is your role?
Whether a Committee, Management Committee or NFP Board, collectively you should be working toward being primarily responsible for the LONG-TERM health of your organisation.
To achieve this, your focus will be on;
Driving the strategic direction of the organisation (vs the operations)
Managing the risk of the organisation (vs the operations)
The development of Organisational Policy (vs procedures)
Reviewing reports and monitoring the financial and regulatory performance of the organisation
Working with the CEO to enable the organisation to obtain the resources, funds and personnel necessary to implement the organisation's strategic objectives
Regularly reviewing the board's structure and composition, so that these are appropriate for the organisation
Appointing – and managing the performance of – a suitable CEO
Succession planning for the CEO
Succession planning for the Board
Just think viability and sustainability vs service delivery and operations…
Under best-practice standards, the NFP Board addresses the issues that ensures your doors are still open in two, three, five and ten years time… while the Management Team ensures that your doors are open today, next month, next quarter and next year…