leadership

Published: August 9, 2022

Read Time: 7 minutes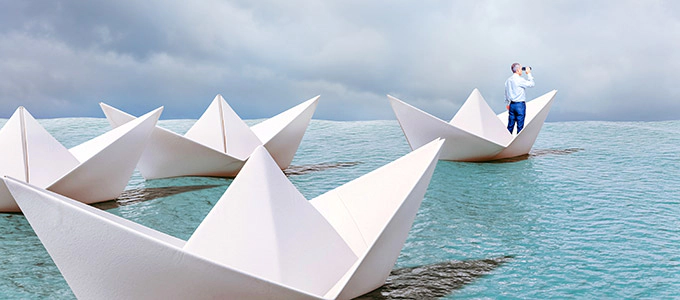 Many people are talking about the Volatile, Uncertain, Complex and Ambiguous (VUCA) world we are living in right now. The pandemic, natural disasters, financial and funding insecurities over the past few years are just a few factors destabilising many people and organisations. The consequences include significant levels of poor mental health, constant change and overwhelm. Unfortunately stress and overwhelm kills creativity and innovation, which is exactly what we need to counter the effects of a VUCA environment.
So, what should governing boards and other leadership teams do to ensure that individuals and their organisation remains strategic and prosperous? I would like to suggest we need to identify and focus on our leadership anchors. An anchor is described in the dictionary as 'a heavy object used to moor a ship to the sea bottom', something that stops a ship from moving or drifting. When describing a person, an anchor means 'someone that can be relied on for support, stability, or security'. If we use leadership anchors as a metaphor, we are talking about leadership approaches, strategies and narratives that help us feel more steady and calm when faced with complex problems or destabilising circumstances.
Anchors do not mean you are tied down indefinitely or unable to be flexible or agile in high winds. A leadership anchor is something that helps you stay stable and develop resistance when required. But just like real anchors, it is wise to have a few anchors and use the one that works best in your context and conditions.
1. Reframe the problem
Thomas Wedell-Wedellsborg, author of the book 'What's Your Problem: To Solve Your Toughest Problems, Change the Problems You Solve', suggests the more important your problem is, the more effort you should invest in getting diverse people and perspectives involved in trying to reframe it. Reframing means to think about the problem or challenge in a different way or understanding why it is a problem. This results in a new or improved understanding of the problem and can often make you feel less overwhelmed or anxious. As a leadership anchor, reframing problems means you will always be seeing if you can find ways to redefine the problem and asking yourself questions like "Is this the right problem to solve?" and "What's stopping us from achieving our goal?".
2. Use systems thinking
Derek Cabrera is an internationally recognized expert in systems thinking and he recommends using systems thinking to solve every day and wicked problems, as this can transform our effectiveness. Systems thinking is an approach that questions and improves people's understanding of a problem by cultivating collective intelligence with those most affected by the problem. It challenges the single-organisation or single-department 'silo' mentality that so often causes frustration, blame and ineffectiveness. As a leadership anchor, systems thinking means curiosity will be a value you demonstrate every day, it will help you look for different perspectives, and value the quality of interactions and relationships within the whole system. You will ask more questions such as "What is it about this problem that we don't understand well enough?".
3. Improve your team's wellpower and resilience
Jim Stengel author of 'GROW: How Ideals Power Growth and Profit at the World's 50 Greatest Companies' suggests that values and organisational culture remain as important as ever in a VUCA world. He states the top performing companies who foster a culture of improving people's lives outperform other organisations. The financial and human costs of toxic stress and burnout can be devastating so if you want to empower and equip your team to manage uncertainty and complexity well, then start by making sure they feel connected, inspired and resilient. A word of caution, just because you work in a nonprofit organisation don't assume you have this culture inherently. Up to 50% of your team may be experiencing presenteeism, fatigue, or burnout. As a leadership anchor, this means you will ask "How can we support people to be more creative?", "Do we have a culture where improving people's lives, is what gives us purpose?" and "Do we reward wellbeing practices so people have wellpower?"
4. Create a culture of collaboration and trust
In the book 'Managers as Facilitators: A Practical Guide to Getting Work Done in a Changing Workplace' Richard Weaver and John Farrell use the acronym TARGET as a mnemonic for the characteristics of a collaborative culture: truth, accountability, respect, growth, empowerment, and trust. This is an easy way to identify tangible areas in which leaders can help their team act in a more effective way. Importantly, one of the core drivers of trust is empathy, an attribute that even high performing leaders struggle with but increases emotional intelligence and better decision making. Harvard Business Review found that empathetic companies outperform their less empathetic competitors by 20%. Why? Because empathy helps you listen better, be more authentic and trustworthy. If you use this as a leadership anchor, you will be asking questions such as "How can I demonstrate empathy?", "What makes people say that?" and "Do I give people regular feedback to show I'm listening?"
5. Be reflexive
When leaders are reflexive, they recognise that they are influencing others and the culture, and they critically reflect on circumstances and relationships to learn and create an ethical, responsive, and successful organisation. Steven Taylor author of 'You're a Genius: Using Reflective Practice to Master the Craft of Leadership' states that our mind acts like picture frames or window frames that determine what we pay attention to (what is in the frame) and what we don't pay attention to (what is out of the frame). This creates our mental frames— our theories, assumptions, and beliefs about the world, and these in turn influence our actions. Reflective practice has been identified as crucial to leadership and governance as it helps us become aware of our frames, our assumptions and opportunities to expand our frame, or even choose alternative frames. As a leadership anchor, reflection (either individually or in a group) allows you to continuously learn and reassess your strategies then adapt as required. Try using questions such as "For what and to whom are we accountable?" and "How do I influence people and systems to respond well to complex challenges?"
Leadership anchors
I have proposed five key leadership anchors that can help you as a leader withstand the storms and a VUCA environment being experienced at the moment. They are principles and strategies that have been tested and explored by researchers and experts such as Dr Paul Mather, Adjunct Professor at La Trobe Business School who wrote an article titled 'Leadership and governance in a crisis: some reflections on COVID-19'. He believes that leaders and organisations need to shift how they think about the challenges they are facing. He writes that empathy and bounded optimism is critical for effective leaders who are continuously reassessing their strategies during time of crisis and change. This reassessment process requires purposeful and meaningful reflection, and doing this regularly will increase your self-awareness, sense making and strategic decision making.
I encourage you to take time to think about whether the proposed leadership anchors could help you improve your own effectiveness and confidence, and how might you make them part of your governance and leadership teams anchors.
Further reading
Cabrera, D., & Cabrera, L. (2015). Systems Thinking Made Simple: New Hope for Solving Wicked Problems. Odyssean Press.
Harvard Business Review. (2015) HBR's 10 Must Reads on Emotional Intelligence. Harvard Business Review Press.
Stengal, J. (2011). Grow: How Ideals Power Growth and Profit at the World's Greatest Companies. Crown Business.
Taylor, S. S. (2015). You're a genius: using reflective practice to master the craft of leadership (First edition.). Business Expert Press.
Weaver, R. G., & Farrell, J. D. (1999). Managers as facilitators: a practical guide to getting work done in a changing workplace. Berrett-Koehler Publishers, Inc.
Wedell-Wedellsborg, T. (2020). What's your problem?: to solve your toughest problems, change the problems you solve. Harvard Business Review Press.
---
First published in the Better Boards Conference magazine July 2022.