board-recruitment

Published: September 10, 2011

Read Time: 7 minutes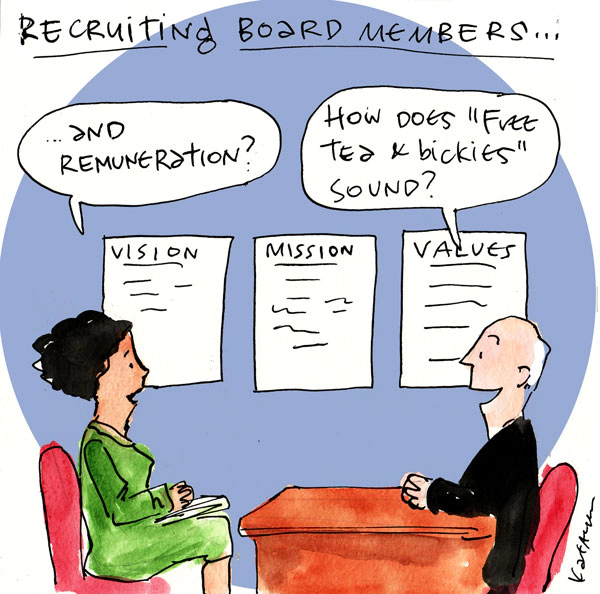 Board remuneration is a tricky conundrum for many not-for-profit organisations. Michael Goldsworthy shares a framework that all directors considering this option, need to consider.
To pay or not to pay?
This is a defining question that increasing numbers of directors of community businesses – or not-for-profits – are thinking about and discussing as boards, as the intensity of risk and responsibility is balanced against the rewards (see the 'Triple R' model below).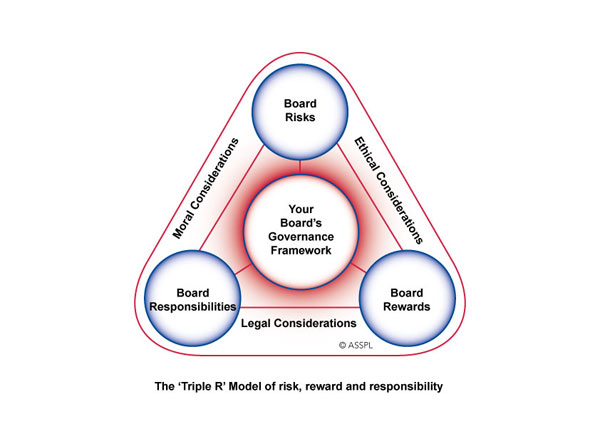 It is estimated that there are some 700,000 community businesses throughout Australia. A research project undertaken in 2001 by the academics, Peter Steane and Michael Christie entitled, Non Profit Boards in Australia: A Distinctive Governance Approach, has determined that between 12–15 per cent of directors of community businesses are remunerated. Typically these are directors of companies limited by guarantee which operate non-religious or charitable community businesses, such as Group Training Companies, Industry Superannuation Funds or Employment Services.
Adopting a model
One model which may be useful when considering the 'remuneration question' is the Governance Framework Model (see diagram below), which characterises community businesses using the following core categories.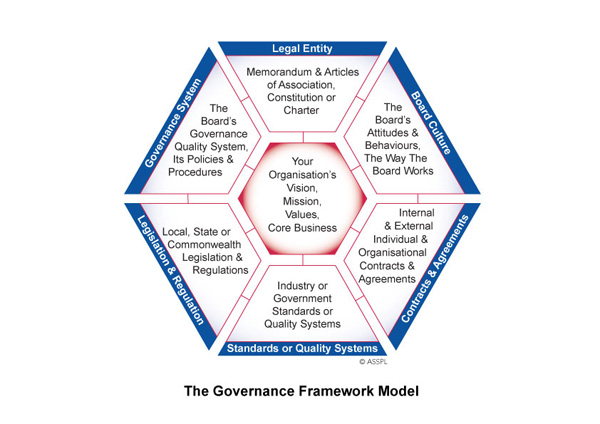 Legal Entity
Broadly speaking, the legal entities and legislative frameworks of community businesses fall into three broad categories:
Incorporated Associations, which operate within each state's association incorporation legislation;
Companies Limited By Guarantee (NFP), which operate within the Commonwealth Corporations Act; and
Entities established by acts of parliament, which are state-based and typically accommodate church or charitable community businesses.
Each piece of state or Commonwealth legislation imposes a range of governance roles and responsibilities upon directors.
Governance System
If a board has a comprehensive governance system within its policies and procedures, there should be a board remuneration and reimbursement policy. This document should have attached procedures and remuneration tools, including a right to, or a restriction on the remuneration or reimbursement of directors.
Consideration also needs to be given to any remuneration or reimbursement requirements of particular state or Commonwealth acts that underpin service delivery, such as the Aged Care Act 1997 or The Disability Services Act 1986.
Contracts, Standards and Quality Systems
Some state-based contracts, funding and service agreements and standards or quality systems place restrictions on remuneration, such as the Victorian Adult Council of Further Education. This needs to be examined and taken into account where necessary.
Board Culture
John Carver, an American governance academic, speaks of a moral, legal and ethical framework within which boards should develop their culture and operate. However, it could be argued that these components are no longer the only key considerations for the 'volunteer' board member who is seeking remuneration.
Such a governance framework fails to appreciate the increasing level of risk and responsibility on individual directors and boards as a whole, it is no longer possible for someone to say, "But I am only a volunteer".  The infamous not-for-profit case, Commonwealth Bank of Australia v Friedrich & Ors (1991), clearly determined an unequivocal position on the volunteer board member in relation to his or her duty to exercise diligence, care and skill, as have similar court cases.
Whether they are paid or not, directors are individuals and will be held to account in their governance roles, responsibilities and performance – or lack of performance.
The 'Touch Stone'
But above all else, the real touch stone for every board, whether it is determining its remuneration or making other strategic decisions is the organisation's vision, mission, values and core business.
So: To Pay or Not To Pay?
But what about the third element of the 'Triple R' triangle: reward? Reward in not-for-profit organisations has traditionally been regarded as one's 'social commitment or contribution' to the community.
The history of community businesses clearly records a significant and important contribution by unpaid directors of not-for-profit entities. But can this continue, without rewards, in light of the following factors?
The continuing need to professionalise boards with directors who have expert skills, knowledge and experience that are aligned with the organisation's vision, mission, values and core business;
The level of intellectual capacity and capability that is required to deal with the complexities and interrelationships of such items as industry trends, competitive forces, standards and accreditation, strategic financial management, organisational performance management, strategic planning, stakeholder management and balancing and integrating all the business and service objectives and outcomes that are required by various stakeholders;
The challenge of recruiting and retaining appropriate directors;
The contribution of not only being a member of a board, but a committee or taskforce member, who is also required to attend governance training, annual general meetings, board retreats, strategic planning workshops, and to be involved with CEO performance appraisals or government accreditation processes; and
The requirements and potential legal and financial implications of legislation, standards, contracts and funding and services agreements upon directors.
Remuneration of directors also raises the issue of personal taxation, including fringe benefits tax and potential implications on the organisation's not-for-profit, Donor Gift Recipient (DGR) or Public Benevolent Institution (PBI) registrations.
A Way Forward
If your board is about to embark on the remuneration debate you may care to consider the following quick checklist.
What evidence does the board have that its governance documentation and practices are contemporary?
What does the organisation's legal entity and constitution say about board remuneration?
Does the board have – and is it using – a comprehensive governance system, and has it had the debate to determine the board's remuneration policy?
Has the board used a remuneration checklist or assessment tool to ensure it has covered off all the various questions and considerations? For example, has the board considered the views of its membership?
Has the board developed a remuneration criteria and planning tool?
Is the remuneration factored into the annual board budget and how does it sit within the organisation's 3–5 year financial plan?
For any director, the decision about remuneration will probably be debated on an individual and board level. It could be guided by consideration of not only the moral, ethical and legal issues, but also the risk, responsibility and reward components of the 'Triple R' Model and the various elements of the 'Governance Framework' Model.
For many paid directors, remuneration is categorised broadly into sitting fees, conference and tour fees and professional development fees. The last two categories are not typically paid directly to directors themselves but are administered by the organisation against the board's professional development plan and the board's annual program of work.
Fundamentally though, the question, 'to pay or not to pay?' will always come down to the directors' views and interpretations of the organisation's vision, mission, values and core business.
What they say: For and Against
For: Care Connect Chief Executive Officer, Paul Ostrowski says his organisation decided to adopt a 'voluntary-plus' model to recognise the high quality of its board members and the increasing expectations being placed on them. "Our organisation is a registered charity but, in many ways, this makes the Board's governance role even more important. As we are managing taxpayer funded resources, we need to attract Directors of the highest calibre. To that end, our organisation has adopted a 'voluntary plus' model. Our Directors receive a small honorarium, but are extensively involved in both compliance and strategic development capacities. They can be called on at any time and we know that they will make themselves available."
Against: Carne Reidy Herd Partner and aged care lawyer, Brian Herd says there is a legal argument against paying. "With not-for-profit organisations, I believe the legal advantages in not paying board members outweigh the advantages of paying them. For example, here in Queensland there is a piece of legislation called the Civil Liability Act which says that a board member of a not-for-profit organisation is personally immune from civil liability only if they are a volunteer on that board. This statutory immunity from civil liability is, in effect, an incentive for people to join not-for-profit boards. It differentiates them from the directors of for-profit organisations. I understand that there are arguments for and against but unless you are Mac Bank, I don't think many not-for-profits could pay enough to provide an adequate financial incentive to board members anyway."
---
The Non-Profit Board Member Remuneration Report 2016 is a useful resource for non-profit organisations considering the remuneration of their board or those seeking to understand current board member remuneration practices in the non-profit sector.
First published in Australian Ageing Agenda, July-August 2008. Reprinted with permission.
Lead Cartoon Image credit: Fiona Katauskis.