governance

Published: December 6, 2016

Read Time: 2 minutes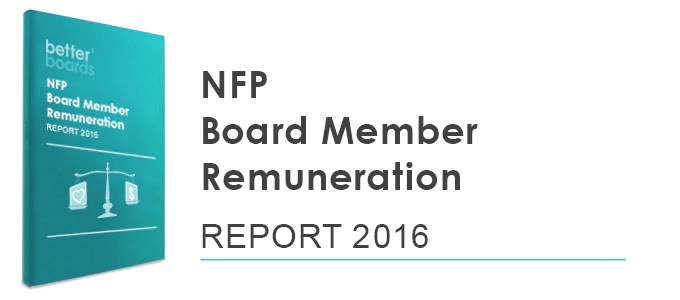 The Better Boards NFP Board Member Remuneration Report 2016 explores the make up of Australasian not-for-profit boards and their remuneration practices. The report provides a unique snapshot of the dynamics of Australasian not-for-profit boards and provides insights to help you understand the changes in board structures and remuneration practices.
Through this 40 page report Better Boards aims to provide valuable insight to not-for-profit organisations, boards, board members and others in the not-for-profit sector on the topics of board remuneration and structure.
The report will be useful to boards, board members, chief executives and others in the not-for-profit space who want to further understand board member remuneration.
The NFP Board Remuneration Report 2016 investigates recent trends and themes in the practices surrounding financial compensation received by board members serving on the boards of not-for-profit organisations.
Better Boards Australasia undertook this survey in order to better understand the prevalence of board remuneration in the not-for-profit sector as well as the relevant thoughts and opinions prevalent in the sector in the 2016.
This report endeavours to answer some of the burning questions about board remuneration brewing in the sector:
How much are remunerated board members paid? (p.16)
Do board-remunerating organisations determine remuneration based on the board's performance? (p.24)
What factors deter organisations from remunerating their boards? (p.30)
How much support is there for board remuneration amongst non-remunerated board members? (p.31)
What other types of practices do non-remunerated boards have in place to compensate directors for their time and expertise (p.33)
This report also identifies some of the differences between organisations that remunerated their board members and those that do not.
Questions?
If you have a question or query about the NFP Board Member Remuneration Report 2016 please contact the Better Boards team on [email protected]