leadership
Leadership
Lessons Learned from a Listening Leader

Published: April 12, 2021

Read Time: 5 minutes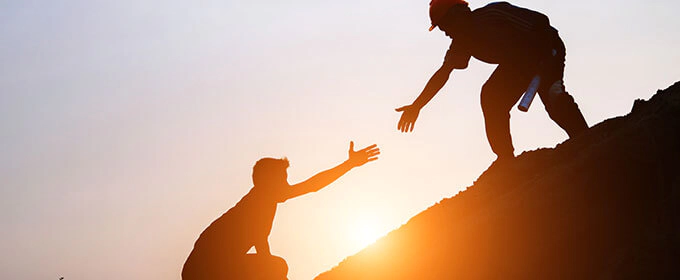 "Um, Jeremy, there's an issue with the data in the Board paper."
So it began. I'd been in the role but days as the new CEO, taking over a team who were finalising a major meeting with our Board, including a significant financial decision that had to be made.**
The words from one of my team stopped me in my tracks. Somehow, the data on which we were framing the paper was wrong. And the paper had gone out, signed off. By me. And – it was now the day before the meeting.
Taking a breath, I analysed the situation. This wasn't good. I'd checked the data myself. It was right. Except, now, being shown that it wasn't, I realised the mistake – everyone involved in the preparation of the paper from the initial drafter to me, had assumed that the baseline data we were using was correct. It wasn't.
It's in times like these you wish you could crawl into a hole and not come out until somehow, someone fixed the problem and made it all go away. I wanted to be in that hole. Very much.
Except the person who needed to be out, taking control, getting their sh*t together and leading the team through the mess was me.
At times like this I reflected on former US Secretary of State Colin Powell's Thirteen Rules of Leadership1 and of a piece I'd read recently quoting Jane Halton AO PSM, who said
You don't get the job and the big bucks to do the easy stuff. You are there to do challenging things, sometimes to deliver difficult messages.2
It was crunch time. Firstly, I got the team in and we sorted how the data was wrong. It was a simple miscalculation that had set us awry. From that came the correct information and new figures. And, reflecting on lesson eight of Powell's rules (check small things – if only we had from the get-go on this….!), we checked that data again, and again. Then we had a break and regrouped, and individually checked it again – twice – all the same outcome, all fine.
Back on track
Now for the harder bit – taking responsibility for the mistake. I rang my Board Chair, explained the error, and apologised, noting I would call the Audit and Risk Committee chair and the members impacted. To their credit, the Board Chair was fine – a big relief. And then to the other calls – an apology, explanation, and polite reiteration that the new data was right. Another lesson learned – it's better to apologise for a stuff-up on the phone (or in person) than an email. My tone conveyed disappointment, my message simple – our bad, I take responsibility, and we've fixed it. No buses running over people, no gnashing of teeth – and instead of unhappy emails, a series of quick calls with the handful of impacted members appreciative of the fix and the call.
Jane Halton again:
One of the key things about leadership is you can't be somebody else. You can't mimic somebody else in the role of a leader. You have to be authentic. You have to be open. You have to be humble.3
Jane Halton's interview one I've pinned to my favourites in my browser and the interview one I highly recommend. Powell's lessons are ones I have on my desk:
Powell's lessons are simple and remind us as leaders that emotional intelligence and self-awareness go hand-in-glove with data-driven decision-making. Do I agree with them all – no?
For me, sometimes, especially in an advocacy setting, you can't always get what you want (rule four) and neither should you drive your Board or association in a direction which you, as an association executive, to a position that is untenable or unrealistic. Politics is the art of the possible – good policy advocacy is the science of making the probable the inevitable. Being realistic, open, and pragmatic (and leaving your ego at the door) will maximise influence; being bloody-minded ensures calls from ministers don't get returned.
The other rule I looked at and went 'yeah nah' to is not taking counsel of your fears (rule 12). Sometimes listening to what is scary and asking yourself objectively what's missing or what would you advise if you weren't in the role, provides for a brutal reality check. It doesn't mean one gives in or reads the 'helpful' comments on a LinkedIn (or Facebook….!) post; it means really asking yourself firstly the hard questions.
They're just rules – but ones which we can easily look to, remind ourselves of – and ensure we get the pesky (but critical…!) baseline data correct.
How we interpret, critique, and implement those rules is a matter for us all. For me, I've removed those two, among others, and replaced them with Jane Halton's maxims, for example:
You have to be authentic. You have to be open. You have to be humble.
And, above all else, listen.
Leadership for me is an active, constant, self-driven verb. As a leader I try to listen, explain, act and drive.
So, here's my list of leadership rules:
Have a vision. Be demanding. Lead with intent. (Colin Powell [CP]/ me [JI])
Listen. Listen again. And listen again. (Jane Halton [JH])
The standard you walk past is the standard you accept. (Governor-General David Hurley)
Ask questions until you're satisfied with the answers. (JI)
Check the detail, check the detail, check the detail. (CP/JI)
Happy boss = easier to lead your way. (JI)
Make your own decisions. (CP)
Never let ego dictate your position. (CP)
When it's hitting the fan, be the one to turn off the power – and know where it is (JI)
Be authentic. Be open. Be humble. (JH, CP, JI)
Remain calm. Be kind. Have fun. (CP/JI)
What would yours be?
Powell's autobiography My American Journey is a brilliant read in leadership, with Jane Halton's thoughts a leadership must-read, from which we can all learn, reflect and take and make our own.