non-profit-fact-sheets

Published: April 11, 2023

Read Time: 8 minutes

Prescribed Bodies Corporates (PBCs) represent Australia's Aboriginal and Torres Strait Islander (ATSI) traditional owner groups. Also called Registered Native Title Bodies Corporate, their legal structure is different from other ATSI corporations. The PBC structure was introduced in 2015 in response to the government's capacity-building program intended to strengthen Indigenous organisations. The goal was to create more economic benefits and sustainable land management among Indigenous communities in Australia.
What are prescribed bodies corporate organisations (PBCs)?
Prescribed Bodies Corporates hold native title rights in the name of a group of traditional owners living within a determined geographic area on Australian territory. The role of PBCs is to support title owners when they develop new projects on native land.
PBCs are body corporates incorporated under the Corporations (Aboriginal and Torres Strait Islander) Act 2006 (Cth) (CATSI Act) and established after a determination of native title is made by the Federal Court in accordance with the Native Title Act 1993 (NTA) to represent the common law holders and manage their native title rights and interests.1
Most PBCs provide services that strengthen culture (62%) and look after or manage land (81%). However, organisations frequently face challenges such as a lack of financial resources (67%) or a lack of skills or expert knowledge (52%) 1. The Quandamooka Land and Sea Management Agency is an example of a Prescribed Body Corporate and is responsible for the planning, management, and protection of the Quandamooka nation estate. The Agency works with local community stakeholders to conduct research, deliver services, manage cultural heritage, and preserve the Naree Budjong Bjarra National Park.
In Western Australia, the Maby Yawuru Ngan-ga Language Center works to revitalise the Yawuru language. PBCs like these play an important role in consultation processes companies must undertake when they want to conduct business on native land. Traditional land owners on ATSI territory are often responsible for deciding if a business agreement should be signed by the PBC or not.
Prescribed body corporate regulations
Prescribed Bodies Corporates are held by traditional owners who manage the organisation for the benefit of their community. Directors set rules and create a rule book that must be followed by members. The Central Land Council provides assistance and advice to PBC owners. Legally, a Prescribed Body Corporate must meet obligations set by both traditional Indigenous law and culture, and colonial laws such as the CATSI Act, the Native Title Act, and PBC regulations. A 2021 study on PBCs in Australia revealed that board directors tend to be older than the general Indigenous population (45 to 54 years old) and are more likely to be men (58% vs 40% women)1.
PBC members have the benefit of choosing which directors will work for them. They have the option to attend annual general meetings and vote on which person will be elected, and they can publicly discuss issues that affect them. PBC members get access to copies of all meeting minutes, financial information, and auditor reports. They can invite other native title holders to join the PBC and can share ideas for the strategic plan.
When directors are chosen, they become responsible for making decisions that affect other title holders and members. One of their responsibilities is to help organise, attend, and actively participate in meetings for the organisation. PBC directors are also expected to communicate with any affected native title holders when a project is proposed on their land. They may be asked to sign agreements if the project is approved and are tasked with producing the documentation needed to meet government rules and requirements such as recording the minutes for an Annual General Meeting or documenting new decisions.
Forming a Prescribed Body Corporate
To establish a prescribed body corporate organisation, a group of members must first make a native title claim. Australia's federal court determines whether a title can be established. Once this determination is made, the PBC must register with the National Native Title Tribunal and becomes a Registered Native Title Body Corporate (RNTBC). These steps are outlined in the Native Title Act 1993 (Cth), which states that when a native title determination is made, native title holders are required to establish a Prescribed Bodies Corporate and manage and protect these title rights. Prescribed Bodies Corporates must incorporate under the CATSI Act.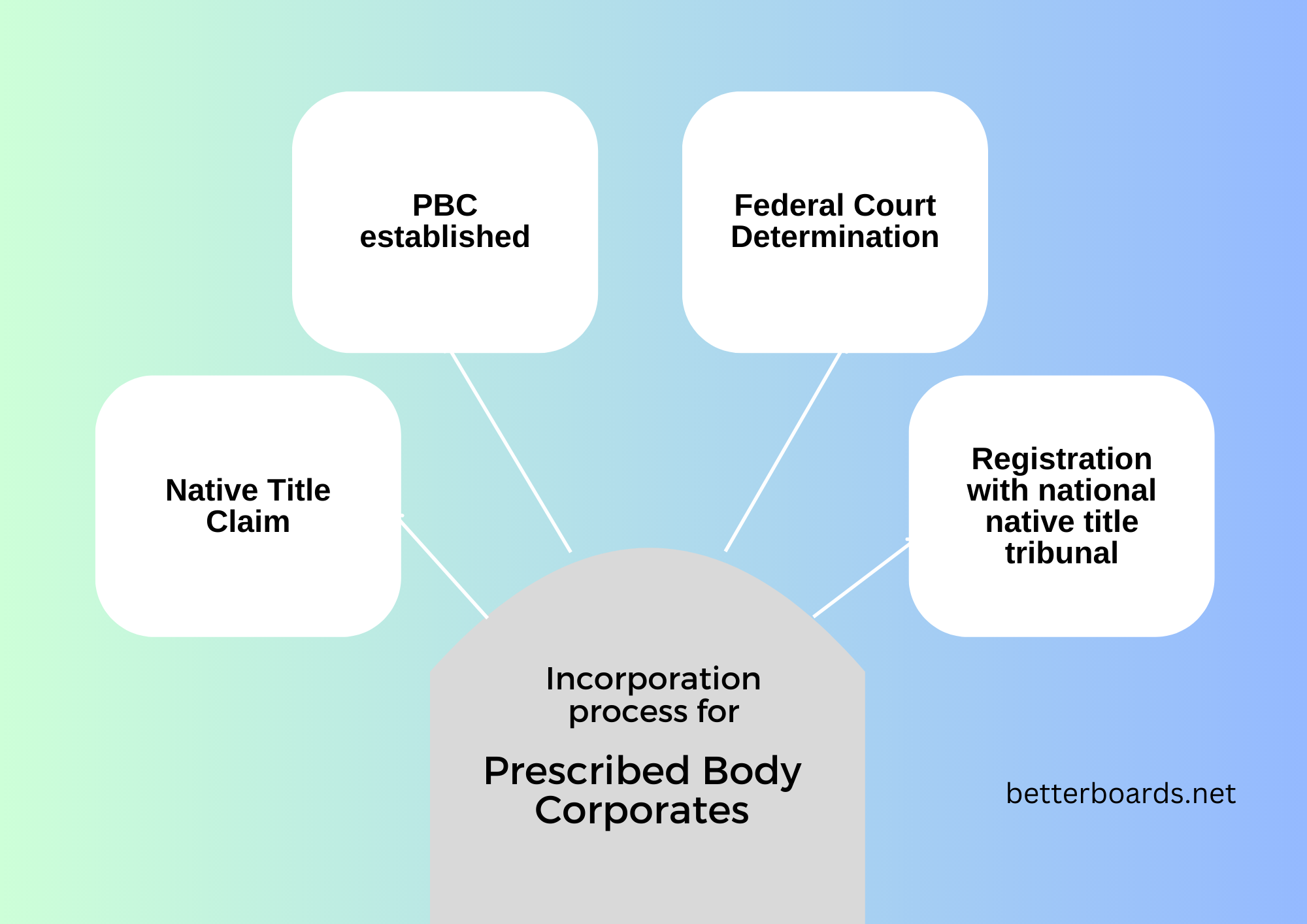 PBC corporations are bound by the traditional laws and customs of their native title group. The organisation may hold these rights as a trustee or agent for traditional owners. PBCs are also responsible for meeting the legal requirements under Commonwealth, state or territory laws that govern the area where the members are located.
The group rules usually focus on Indigenous land usage agreements with governments and companies, including how to negotiate, implement and monitor them. The intention of the regulations is to make sure consultation takes place with Indigenous peoples in Australia and their views are considered. The PBC legal structure also relies on agreements that compensate native title owners when matters are brought to the Federal Court. Land usage agreements provide guidelines for dealing with future native title acts and cases. Issues usually relate to land and water management, biodiversity and environmental protection, tenure issues, cultural heritage, and land use planning.
What other challenges do PBCs face?
Prescribed Bodies Corporate must balance their obligations to members with the ones they have with the Australian government. Another is the lack of gender equality among PBC directors. In addition, a 2021 survey conducted on Prescribed Bodies Corporate in Australia (PBCs) showed that small organisations tend to have the same number of directors as medium and large entities, and therefore have a larger governance workload than necessary.
The study made several recommendations, including increasing support to smaller PBCs who face complex governance issues with few resources, as well as improving gender and diversity and working with PBCs to determine what kinds of support they need to improve funding and training. Planning for board succession by reaching out to youth and next-generation leaders has also been proposed due to PBC leadership tending toward older members.
What is a Benefits Management Structure?
Indigenous benefits management structures (BMSs) are responsible for managing and distributing assets that arise from land use agreements. Their purpose is to ensure the recognition of Indigenous cultural and land-related rights. BMSs receive payments under land use agreements in exchange for holding, managing and distributing these assets to Indigenous peoples and groups. BMS can include corporations such as companies limited by guarantee, charitable trusts, discretionary or fixed trusts, and incorporated associations. However, for an organisation to become a prescribed body corporation, a determination of native title must be made.
Are Aboriginal Torres Strait Islanders autonomous?
The UN Declaration on the Rights of Indigenous Peoples states that ATSI people have the right to freely determine political status and pursue economic, social and cultural development. Self-determination means ATSI people should be allowed to direct and implement their own policies and programs for the benefit of their communities. Even so, under Australian law, Indigenous sovereignty is not fully recognised and is not mentioned in the Constitution.
What are Indigenous Land Use Agreements?
According to the National Native Title Tribunal, an Indigenous Land Use Agreement (ILUA) is a voluntary agreement between native title holders and other people or organisations that applies to the use and management of land or waters. ILUAs are meant to provide money for native title holders (common law holders) from Registered Native Bodies Corporate organisations. The agreements are usually made with governments and corporations such as mining companies and operate as a contract between the parties involved.
What types of Indigenous Land Use Agreements can be made?
There are three types of ILUAs: body corporate agreements where there is one or more registered native title body corporate for an entire agreement area; area agreements were there is no registered native title body corporate for the entire area; or alternative procedure agreements where there is at least one representative body for the area but not in relation to the entire area.
What is the difference between a Registered Native Title Bodies Corporate, a Prescribed Bodies Corporate, and other CATSI corporations?
The terms Registered Native Title Bodies Corporate and Prescribed Bodies Corporate essentially mean the same thing and can be used interchangeably. The National Indigenous Australian Agency states that "Registered Native Title Bodies Corporate (RNTBCs) are different from other CATSI corporations. Their purpose is to manage native title on behalf of the native title holders – who are also called the common law holders." Indigenous corporations are the 'doers', while PBCs focus on managing land use and Trusts manage funding received.
Resources
In March 2021, the Australian government changed the rules in the Native Title Act. The Central Land Council has since published an information booklet titled Native Title Story (2022) about native title and prescribed bodies corporate.
For more information on the rationale, methods, results and implications of the 2019 survey of Prescribed Bodies Corporate in Australia, visit the AIATSIS website.
For more information on the gender and age gap among PBC board directors, read the "Gender and generation in native title: Director demographics and the future of prescribed bodies corporate" report published by AIATSIS.
---
This fact sheet is intended as a simple overview. Non-profit law is incredibly complex and there are many components, allowances, restrictions, exceptions and important qualifications that are not described above. Dedicated legal advice should be sought from a legal practitioner before taking action.