strategy-risk

Published: February 8, 2016
Read Time: 1 min

In this video, Darren Fittler – Lawyer at Gilbert + Tobin – discusses the strategic value of understanding your organisation's purpose, not just what your organisation does.
Darren facilitated a workshop entitled "Never Forget Your Purpose…Ever!" at the Better Boards Conference 2015. See more speakers like Darren at the Better Boards Conference.
Author
About

Best Lawyers 2019 recognises Darren in Non-Profit/Charities Law and Chambers Asia Pacific 2019 ranks Darren in Band 1 for Charities. Darren was named in the 2015 Australasian Lawyer Hot List as a "Pillar of the Community" and was the recipient of the 2014 Human Rights Commission Law Award in recognition of his long term commitment to assisting not-for-profit and charitable organisations. He is also a volunteer director on a number of charity boards.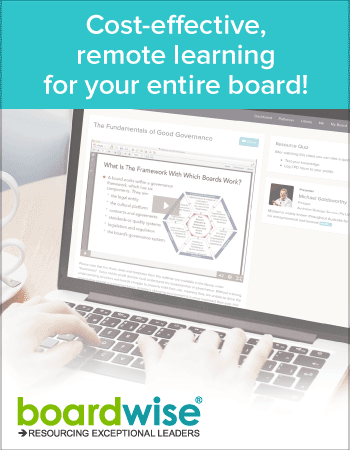 Found this article useful or informative?
Join 5,000+ not-for-profit & for-purpose directors receiving the latest insights on governance and leadership.

Receive a free e-book on improving your board decisions when you subscribe.
Unsubscribe anytime. We care about your privacy - read our Privacy Policy here.