Darren Fittler on the How Purpose Drives Choices
strategy-risk
Strategy & Risk
Darren Fittler on the How Purpose Drives Choices

Published: June 13, 2016
Read Time: 1 min

In this short video, Darren Fittler – Partner at Gilbert + Tobin – outlines how your organisation's purpose drives what your organisation does at multiple levels. Darren presented on "Never Forget Your Purpose… Ever!" at the Better Boards Conference 2015.
Section title
About

Better Boards connects the leaders of Australasian non-profit organisations to the knowledge and networks necessary to grow and develop their leadership skills and build a strong governance framework for their organisation.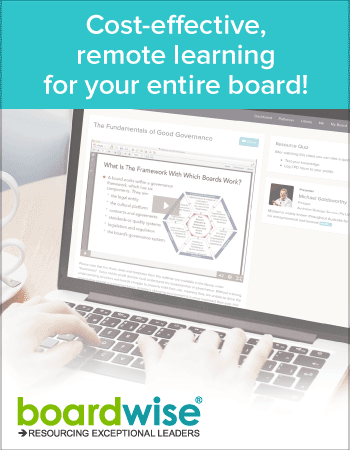 Found this article useful or informative?
Join 5,000+ not-for-profit & for-purpose directors receiving the latest insights on governance and leadership.

Receive a free e-book on improving your board decisions when you subscribe.
Unsubscribe anytime. We care about your privacy - read our Privacy Policy here.