What is board meeting software?
non-profit-fact-sheets
Non-Profit Fact Sheets
What is board meeting software?

Published: February 14, 2018

Read Time: 6 minutes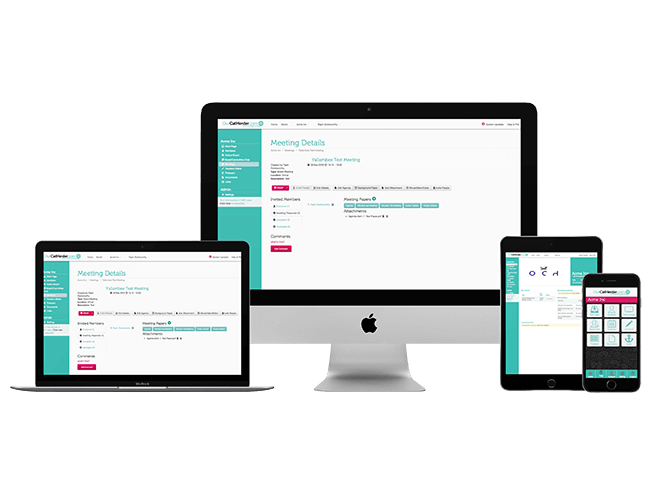 Board meeting software (also known as board portal software) is a specialised type of application built for the specific purpose of improving board meetings. This improvement is typically achieved through the software streamlining the administrative tasks a board of directors and/or it's support staff must undertake.
Board meeting software can also be used to improve many other types of meetings at board and executive level in your organisation including: committee meetings, advisory board meetings, executive team meetings, subcommittee meetings and board task force meetings.
What does Board Meeting Software do?
The key benefit you will obtain from board meeting software is to make routine board tasks easier. This frees your board up to focus on its most important job, engaging in robust strategic discussion and making high quality strategic decisions that contribute to a positive future for your organisation.
To allow this to happen a good piece of board meeting software should:
help you to distribute board information in a timely and effective manner
improve communication between board members
make it simple and easy for the appropriate person (company secretary, board assistant, chairperson or other responsible individual) to manage the many board related tasks (creation of board packs, meeting minutes, action items etc…) that must be undertaken.
There are many providers of board meeting software. Choosing one that is right for your organisation and its needs might take some work. The good news is there is plenty of choice, so with some research you're very likely to find board meeting software that is just right for your organisation.
Some elements that are important to consider when choosing board meeting software are:
Easy of use
Almost every piece of board meeting software will provide a relatively similar set of functions. The most common are providing document storage, communication tools and meeting improvement tools in a secure web portal. Some will have additional functions of varying sorts depending on the provider. The main issue is that while most board meeting software provides the same or similar tools, the ease-of-use is highly variable among vendors.
Some vendor's board meeting software will (somewhat surprisingly) make it harder to perform routine tasks. This typically happens because the software is poorly designed, making it more complex or "heavy" than it needs to be. "Heavy" board meeting software will add more pain points to your workload instead of removing them. However if you do a careful search and evaluation you will certainly find board portal providers that have taken the time to craft software that will make your job easier and more enjoyable.
You should seek a piece of software for your board that will make your job easier – this will usually become obvious when you use a product. For example does it take ten steps to assign an action item to a board member during a meeting or just two?
In short board meeting software should get out of the way so you can get on with the job.
Transparency
Some providers of board meeting software are not transparent on pricing or any other aspect of their software. You'll have to go through a long sales process (presentations, pitches or demos) before you can even get your hands on the software to see if it will work for you and you board. As a savvy buyer you will usually know through using the software if it is suitable for you or not. Software where you can trial before sales presentations or payment must be made is typically ideal.
While long sales processes can be useful when you have complex requirements, often it is overkill for organisations that know what they need or don't require a complex solution. Adding to this issue further, many of these sales processes are done from the perspective of the salesperson and their needs (getting as high a price tag on a sale as possible) rather than the needs of the you their prospective customer. Where possible opt to look at providers that will provide you with a trial of their board meeting software upfront. They will probably be more than happy to do an exploratory call or demo to complement the trial.
Price
Unfortunately some providers hide the price of their software behind several layers of sales pitches. The price of board meeting software can range from a few hundred dollars a year to more than of thirty thousand dollars per year. With so many advances in the tools available to rapidly develop quality software, a good board portal solution shouldn't cost you the earth. Look for providers who are completely upfront about the price of their software. Pricing should be clearly displayed on their website.
There are as many price points and pricing models available to choose from as there are board meeting software providers. Most vendors have adopted a recurring billing model of some type and no longer use the pay once software pricing models of old. This type of recurring billing is good for both the customer and the provider. It means that a provider must clearly demonstrate ongoing value, but also means the software provider has an ongoing income stream to invest in improving the product for customers.
More than just software
A board meeting software provider shouldn't just be in the business of providing software. A good vendor should have a depth of experience in governance and boards. Is the provider able to offer other services to your board? One example would be training or board professional development (beyond training to use the software).
If they offer complementary products and services that are also focused on boards and governance then they are more than just a software developer and can add deep value to your board and organisation.
Other considerations
There are many other considerations that various vendors will draw your attention to and each is important at a different stage. Other considerations will include security, dollar savings compared not having a piece of board meeting software and/or considerations specific to other specialised features a vendor might offer you.
These are all quite important to consider at the appropriate time. However if you cannot get a clear idea upfront of how easy to the software is to use, you can't easily discover how much it will cost you and the provider lacks a deep knowledge and expertise of boards and governance then these other considerations should remain less important until you find a provider that is able to meet these initial criteria.
Are you in the market for Board Meeting Software?
Be sure to add Our Cat Herder to you list for consideration.
Upfront, transparent & cost-effective pricing.
45 day free trial.
Easy-to-use (actually, our users tell us it is "enjoyable to use").
Backed by Better Boards – we help you to Master the Art of the Boardroom.
Visit www.ourcatherder.com to check it out.
Section title
About

Better Boards connects the leaders of Australasian non-profit organisations to the knowledge and networks necessary to grow and develop their leadership skills and build a strong governance framework for their organisation.
Found this article useful or informative?
Join 5,000+ not-for-profit & for-purpose directors receiving the latest insights on governance and leadership.

Receive a free e-book on improving your board decisions when you subscribe.
Unsubscribe anytime. We care about your privacy - read our Privacy Policy here.