What is a board?
non-profit-fact-sheets
Non-Profit Fact Sheets
What is a board?

Published: August 19, 2013

Read Time: 4 minutes

"Board" is one of several names used to signify the group of people assigned the responsibility to govern an organisation, company or other similar entity. A board is a legal requirement of a number of different forms of for-profit and non-profit organisations.
Your organisation's board might be called the board of directors, board of trustees, committee, management committee, council, governing body, responsible entity, or one of a variety of other names, depending on your organisation's legal form or constitutions. The individuals who serve on the board might be called board members, directors, committee members, non-executive directors or trustees.
Purpose
The purpose and responsibilities of the board as well as the restrictions and limitations placed on it will vary between organisations, depending on the specifications of the organisation's constitution. In general, the purpose of a board is to provide the organisation with strategic direction and purpose. An effective board is proactive and drives the work of the organisation, rather than responding to it. The board also has ultimate responsibility for the finances of the organisation and holds legal responsibility for its ventures and actions. The board's main contact with the organisation is through the chief executive officer (CEO) or equivalent and it is responsible for appointing and managing this individual.
For these reasons the proper functioning of a board and the diligence of its members is closely linked to the organisation's capacity to operate effectively.
Directors
Boards are typically required to have at minimum of 3 members, also known as directors. According to the Better Boards Non-Profit Board Member Remuneration Report, boards of Australian non-profit organisations are usually made up of between 7 and 10 members and 8.5 on average. New members of a board might be elected by the organisation's membership (if it has one), or appointed by current members.
The board is usually made up of individuals who are not employed by the organisation. They might have a particular interest or personal stake in the organisation's mission; they might have been called to serve on the board because of a particular skill-set required by the board (e.g. legal or accounting); or they might represent the interests of a certain group of stakeholders. Board directors of non-profit organisations are usually unpaid.
A board director may be held personally liable for the actions of the organisation if found negligent in carrying out his or her duties.
Obligations
Boards meet occasionally; some meet every month and others every two or three months and future board meetings are usually planned out 12 months in advance. Although some work is required outside of meetings, such as reading board papers, approving minutes and attending functions, board membership is usually a part-time occupation. Boards often contain a number of sub-committees responsible for monitoring a particular aspect of the board's jurisdiction, such as risk management or nominations and reporting back to the whole board. There is, however, no obligation for a board to have sub-committees.
Boards are typically led by one individual, given the title of Chair or President. The Chair is usually elected by the board, but in some cases they are elected by the membership at an annual general meeting. The Chair typically works closely with the CEO, is the figurehead of the organisation and presides over board meetings.
Further information on Boards
There are a number of other resources that offer introductory information on boards of non-profit organisations, these include:
David Fishel's The Book of the Board is a comprehensive guide to all things board. Read our review here
The Australian Charities and Not-for-profits Commission has a range of information available for boards, including their guide for board members Governance for Good.
---
This fact sheet is intended as a simple overview of non-profit terminology. Non-profit law is incredibly complex and there are many components, allowances, restrictions and exceptions that are not described above. This fact sheet is not intended and should not be taken as legal advice. Legal advice should be sought from a legal practitioner before taking action.
Section title
About

Better Boards connects the leaders of Australasian non-profit organisations to the knowledge and networks necessary to grow and develop their leadership skills and build a strong governance framework for their organisation.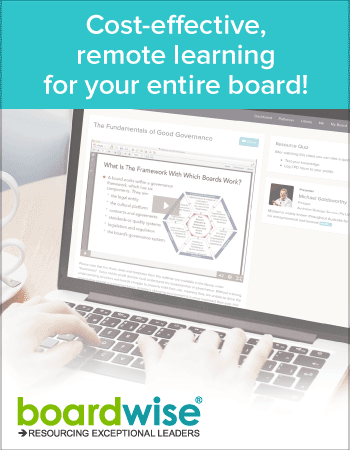 Found this article useful or informative?
Join 5,000+ not-for-profit & for-purpose directors receiving the latest insights on governance and leadership.

Receive a free e-book on improving your board decisions when you subscribe.
Unsubscribe anytime. We care about your privacy - read our Privacy Policy here.