What is a Company Limited by Guarantee?
non-profit-fact-sheets
Non-Profit Fact Sheets
What is a Company Limited by Guarantee?

Published: August 19, 2013

Read Time: 4 minutes

When establishing a non-profit organisation, founders can choose from a large range of legal forms. An organisation's legal structure will determine the types of activities it is legally able to carry out and which government bodies it is required to seek registration from or report to. A company limited by guarantee is one possible structure of a non-profit organisation. Find out more about the other types of legal structures here.
A company limited by guarantee is a specialised form of public company designed for non-profit organisations. In Australia companies limited by guarantee are subject to the [Corporations Act 2001 (Cth)]1 and administered to by the [Australian Securities and Investments Commission]2 (ASIC). Like incorporated associations, this legal structure designates an organisation as a separate legal entity. A company limited by guarantee can be sued, legally lease a property, enter into contracts or hold assets in its name.
The term company limited by guarantee refers to what occurs in the winding up of this type of company. The members of a company limited by guarantee must specify the amount they are willing to contribute to the property of the company on its winding up and this will determine or limit the liability of the company's members.
Like other public companies, a company limited by guarantee has many legal restrictions and requirements. The following is an excerpt of some of ASIC's expectations, please see [this page][5] for further details or seek legal as advice as neither our list or theirs is exhaustive.
As a minimum, a company limited by guarantee must:
"have at least three directors and one secretary
have at least one member
be internally managed by a constitution or replaceable rules
maintain a register of its members
keep a record of all directors' and members; meeting minutes and resolutions
appoint a registered company auditor within one month of its registration
keep proper financial records
prepare, have audited and lodge financial statements and reports after the end of every financial year
send to its members a copy of its financial statements and reports, unless the member has a standing arrangement with the company not to receive them
hold an annual general meeting once every calendar year within five months after the end of its financial year
receive and review an annual company statement and pay an annual review fee
lodge notices whenever changes to its officeholders, office addresses, constitution and its name occur"3
One of the key advantages of this legal form is that it allows the organisation to operate nationwide. The strict legal requirements of this structure might also provide potential donors, clients and business partners with confidence that the organisation is run according to stringent principles and acknowledged standards. Indeed, some types of organisations are required to have this structure by law. This legal structure is not one that should be entered into lightly, however, as its legal and administrational obligations are significant and may be too much of a burden to an organisation with limited resources.
Since 2010, ASIC's requirements of organisations classified as a "small company limited by guarantee" have been altered. This category is defined as a company limited by guarantee that has held this legal status for the entirety of the financial year, has not held deductible gift recipient status at any time during the financial year and its revenue for the financial year is less than $250,000. Unless specifically requested by ASIC a small company limited by guarantee is not required to "prepare a financial report or have it audited, prepare a directors' report or notify members of annual reports"4. Different restrictions apply to companies limited by guarantee that do not fit into this category, and those with revenue of $1 million or more.
---
This fact sheet is intended as a simple overview of non-profit legal forms and terminology. Non-profit law is incredibly complex and there will be many exceptions, restrictions, allowances and important qualifications that are not described above. This fact sheet is not intended and should not be taken as legal advice. In many cases, serious penalties apply to organisations that are found to be lax in fulfilling the requirements of their legal structure. Dedicated legal advice should be sought from a legal practitioner before taking action.
Section title
About

Better Boards connects the leaders of Australasian non-profit organisations to the knowledge and networks necessary to grow and develop their leadership skills and build a strong governance framework for their organisation.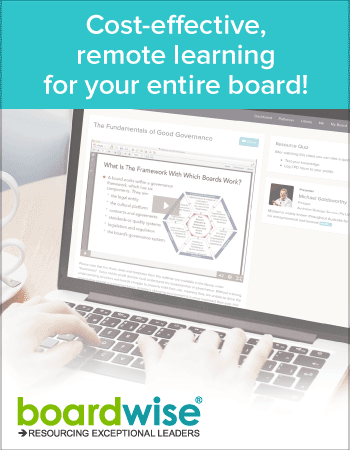 Found this article useful or informative?
Join 5,000+ not-for-profit & for-purpose directors receiving the latest insights on governance and leadership.

Receive a free e-book on improving your board decisions when you subscribe.
Unsubscribe anytime. We care about your privacy - read our Privacy Policy here.