What are the different legal structures of non-profit organisations in Australia?
non-profit-fact-sheets
Non-Profit Fact Sheets
What are the different legal structures of non-profit organisations in Australia?

Published: November 11, 2013

Read Time: 2 minutes

When establishing a non-profit organisation, founders can choose from a large range of legal structures. An organisation's legal structure will determine the types of activities it is legally able to carry out and which government bodies it is required to seek registration from or report to.
In 2010 The Productivity Commission investigated the non-profit sector in The Contribution of the Not-for-Profit Sector. It considered the value of transitioning from the current legal structuring of non-profit organisations to a single legal form in order to prevent confusion between different forms and reduce the restrictive nature of some current forms. In the report, however, the Commission recommended retaining the current variety of legal forms as the migration of existing entities to a new system would be extremely expensive and time-consuming for organisations and current staff and advisors who are already familiar with the current system and regulations relating to their organisations.
It is possible to change the legal form of an organisation after it has been established and some leadership teams opt to do this when their organisation outgrows its original form, perhaps by gaining more members, increased revenue or expanding its area of operation.
Please note, legal structure is the simplest level of qualifying information available about a non-profit organisation and the variety of organisations that can be found within each of these categories is broad. An organisation in any of the categories below might also qualify as a charity or be granted other special tax exemptions or different reporting requirements, but these are separate legal conditions on top of their basic legal structure. For more information on the differences between a non-profit organisation and a charity please see this fact sheet.
Organisations formed by Royal Charter or by special Act of Parliament
---
This fact sheet is intended as a simple overview of non-profit legal forms and terminology. Non-profit law is incredibly complex and there will be many exceptions, restrictions, allowances and important qualifications that are not described above. This fact sheet is not intended and should not be taken as legal advice. In many cases, serious penalties apply to organisations that are found to be lax in fulfilling the requirements of their legal structure. Dedicated legal advice should be sought from a legal practitioner before taking action.
Section title
About

Better Boards connects the leaders of Australasian non-profit organisations to the knowledge and networks necessary to grow and develop their leadership skills and build a strong governance framework for their organisation.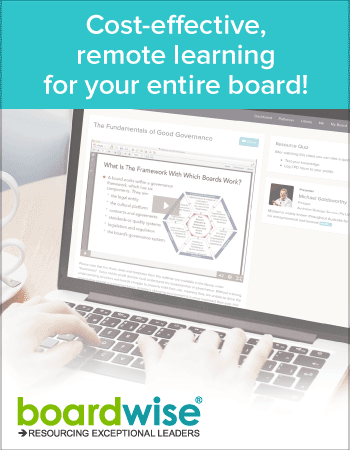 Found this article useful or informative?
Join 5,000+ not-for-profit & for-purpose directors receiving the latest insights on governance and leadership.

Receive a free e-book on improving your board decisions when you subscribe.
Unsubscribe anytime. We care about your privacy - read our Privacy Policy here.