What is an Unincorporated Association?
non-profit-fact-sheets
Non-Profit Fact Sheets
What is an Unincorporated Association?

Published: August 19, 2013

Read Time: 2 minutes

When establishing a non-profit organisation, founders can choose from a large range of legal forms. An organisation's legal structure will determine the types of activities it is legally able to carry out and which government bodies it is required to seek registration from or report to. Unincorporated associations are one possible structure of a non-profit organisation. Find out more about the other types of legal structures here.
Unincorporated associations are the simplest form that a non-profit organisation can take. They are sometimes called a voluntary association. The majority of non-profit organisations in Australia (approximately 440,000 of 600,000 organisations) are unincorporated associations.
Unincorporated associations are usually small or informal community organisations. Any group of people who agree to act together, usually because of a shared interest or purpose, might be called an unincorporated association. These organisations often have limited income and conduct only a small range of activities.
Unincorporated associations are easy and free to establish and have very few of the same administrative or legal requirements of incorporated associations. Members must abide by the rules of the organisation's constitution, if it has one. The constitution might be formal like that of other organisations or informal and not written down but agreed on by members. Unincorporated associations do not have a legal identity: they cannot hold assets in their name or the legal protections for members that come with incorporation.
There are risks associated with forming an unincorporated association. As the organisation does not have a legal identity, individual members are personally responsible for the actions or debts of the organisation or for any contracts signed.
Although unincorporated associations do not have the same economic significance as larger non-profit organisations, their great number and presence in many communities across the country attest to the robust nature of this form of organisation.
---
This fact sheet is intended as a simple overview of non-profit legal forms and terminology. Non-profit law is incredibly complex and there will be many exceptions, restrictions, allowances and important qualifications that are not described above. This fact sheet is not intended and should not be taken as legal advice. In many cases, serious penalties apply to organisations that are found to be lax in fulfilling the requirements of their legal structure. Dedicated legal advice should be sought from a legal practitioner before taking action.
Section title
About

Better Boards connects the leaders of Australasian non-profit organisations to the knowledge and networks necessary to grow and develop their leadership skills and build a strong governance framework for their organisation.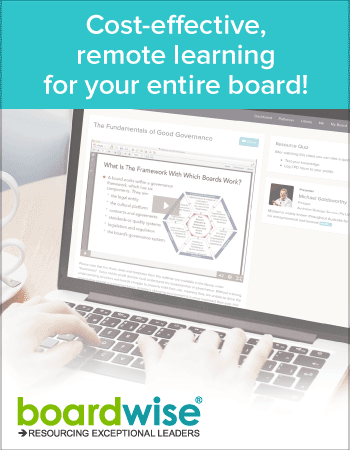 Found this article useful or informative?
Join 5,000+ not-for-profit & for-purpose directors receiving the latest insights on governance and leadership.

Receive a free e-book on improving your board decisions when you subscribe.
Unsubscribe anytime. We care about your privacy - read our Privacy Policy here.